The process begins with your input on color choices, style and art. We can deliver sketches or digital renderings until you're happy with the look and design.
Then all parts to be painted are propperly prepped for paint. Sometimes this requires stripping existing paint off. Tanks are pressure tested for leaks and all metal cleaned and prepped before any body work and molding begins. We can customize and do any custom molding as required.
Once body work and molding is complete we use quality epoxy primers for maximum rust resistance and adhesion. Over the epoxy goes urethane primers for leveling and smoothness. Then a final coat of epoxy for adhesion before the chosen paint scheme is applied.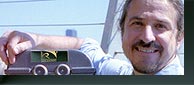 Special attention is given to the details of all designs... we achieve meticulous quality that sets our work apart from our competition. All graphics, art work, lettering, and pin striping are then buried deep in durable urethane UV resistant clear coats that are buffed to a glass-like show quality finish.